Tigers usually do sleep after eating, but cubs really haven't learned that rule yet. Occasionally he'd actually fall asleep during feeding, still holding onto the nipple.
Also at this stage, fresh meat was gradually being introduced into his diet. Maya didn't like the taste of the meat at first, so it was dipped in formula then offered to him by hand, this seemed to do the trick.
During the first few weeks, a tiger will need to eat every 3 to 4 hours, 24 hours a day, 7 days a week - THIS IS A MUST. After the first few weeks the feeding schedule goes to every 4 hours. A tiger cub may well put on weight at the rate of 1 or 2 pounds per day! Close monitoring of the health of the cub is vital during this time. At about 10 weeks meat is added to their diet for the start of the weaning process.
During the first few weeks, approximately a half hour to 45 minutes after being fed (giving their system time to process the formula), their bowels must be stimulated. With Mom raised cubs either in captivity or in their natural habitat, the mother takes care of this by licking the cub under the base of the tail. When humans raise a cub, cotton balls dampened with warm water dabbed on the cubs' anus take the place of the mother. As nasty as this may sound, it's vital this is done. If this is not done, it could be fatal for the cub.
There are different formulations of formula depending on the nutritional requirement of a particular species. There are also several brands of formula - One of the most commonly used brands is Zoologic Milk Matrix - see Petag Exotic Animal supplies for more information.
Another producer of milk replacers and exotic/wild animal supplements is Apperon, Inc. Please click here and visit their informative site to learn more about their products.
Cubs are often raised by humans so that humans may interact with the animals more safely and the animal forms a close bond with his or her handler, who in turn forms a close bond with the animal.
This helps to ensure a greater level of safety for the handler when the animal grows to be an adult.
It takes lots and lots of hard and consistent work to keep the bonds between handler and animal, work which must extend from cubhood all the way throughout the animals life. Anyone considering working with an exotic animal such as a tiger must have 100% focus at all times while doing any activity with the tiger. All it takes is one mistake, and the tiger may wind up paying with his or her life.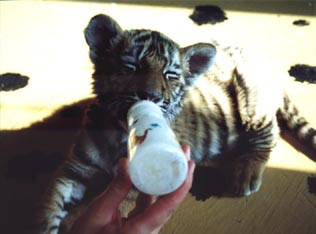 "Bottle is almost finished ... all this heavy formula is making me sleepy ....."
Cubs being hand raised are usually separated from their mother after the first 7 to 14 days. This initial time with their Mom insures they get all the antibodies the mothers' milk contains. This assures that the cubs' disease resistance is up where it should be. Even still, they must be vaccinated against diseases when they are old enough to withstand the vaccinations.
Go to my Suggested Reading List for books with more specific information.